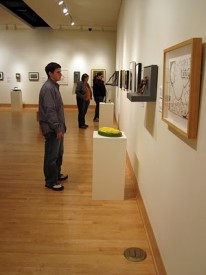 Edge of Life: Forest Pathology
January 21st – March 26th, 2011
The Cole Art Center @ The Old Opera House
Ledbetter Gallery
3329 E. Main Street
Nacogdoches, TX
www.forestryart.blogspot.com
The Edge of Life collaboration brings together the fields of forest pathology and art, explores the place they meet, and culminates in a traveling art/science exhibition and book. The exhibition includes artists from Stephen F. Austin State University's School of Art and ecological artists from across the nation. The The goals are to share sciences' ability to inspire culture through art, to present a wide range of innovative approaches to making art, and to educate about the field of forest pathology.