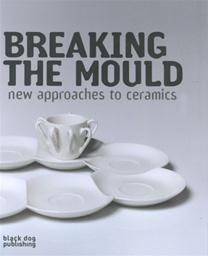 Breaking The Mould: New Approaches to Ceramics is an astonishing collection of the most exciting ceramic design today, exploring the increasingly varied ways in which the boundaries of pottery design are being extended and challenged by contemporary makers.
When Grayson Perry won the Turner Prize in 2003, with his expressively illustrated clay vessels, people began to take interest in the craft-art crossover in general and in pottery in particular. The potential of the medium is enormous. Its malleability means that the form is open to an infinite range of interpretations. From large-scale installation to sculpture to new configurations of the vessel, artists and makers are becoming ever more daring with their concepts and creations.
Breaking the Mould showcases an impressive international array of makers and designers, from emerging talents to established figures. Over 60 ceramicists including Grayson Perry, Anders Ruhwald, Richard Slee, Phoebe Cummings, Maxim Velcovsky, Marek Cecula and Emmanuel Cooper are profiled, and their work is illustrated in luxurious full colour.
The book also includes three essays by prolific ceramic artists. Rob Barnard looks at the history and current practices in ceramics in the United States, Natasha Daintry discusses the concepts of form and formlessness in the vessel and Clare Twomey explores the absolute cutting edge of the medium, examining its interaction with design and fine art.
Breaking the Mould is a definitive overview of a craft scene that is simultaneously building upon and breaking with its roots, and in doing so creating a brave new future for itself.